Charming wedding and events venues
in Florence and Tuscany
Wedding editor
Every corner of Florence and Tuscany presents exclusive locations that offer
a perfect setting to make your dream wedding or your private event unforgettable.
The location scouting is one of the phases that we are most passionate about in our work. First of all because moving around Tuscany we always find ourselves immersed in beauty. Nature itself is made up of alternating, wonderful curves and colours. The hand of man, over the centuries, has helped in shaping this region into something truly unique in the world. The second element that fulfils us, and which finds ample outlet in our research activity, is to observe with the eyes of imagination, eyes that allow us to transform a real place into a fairy tale.
Destination wedding in Tuscany
Our unstoppable desire to implement a vision of love that encompasses original and unusual details, pushes us to search for lesser-known places, both to exploit the artistic and cultural heritage of Florence, and to propose a cosier and more intimate version of marriage.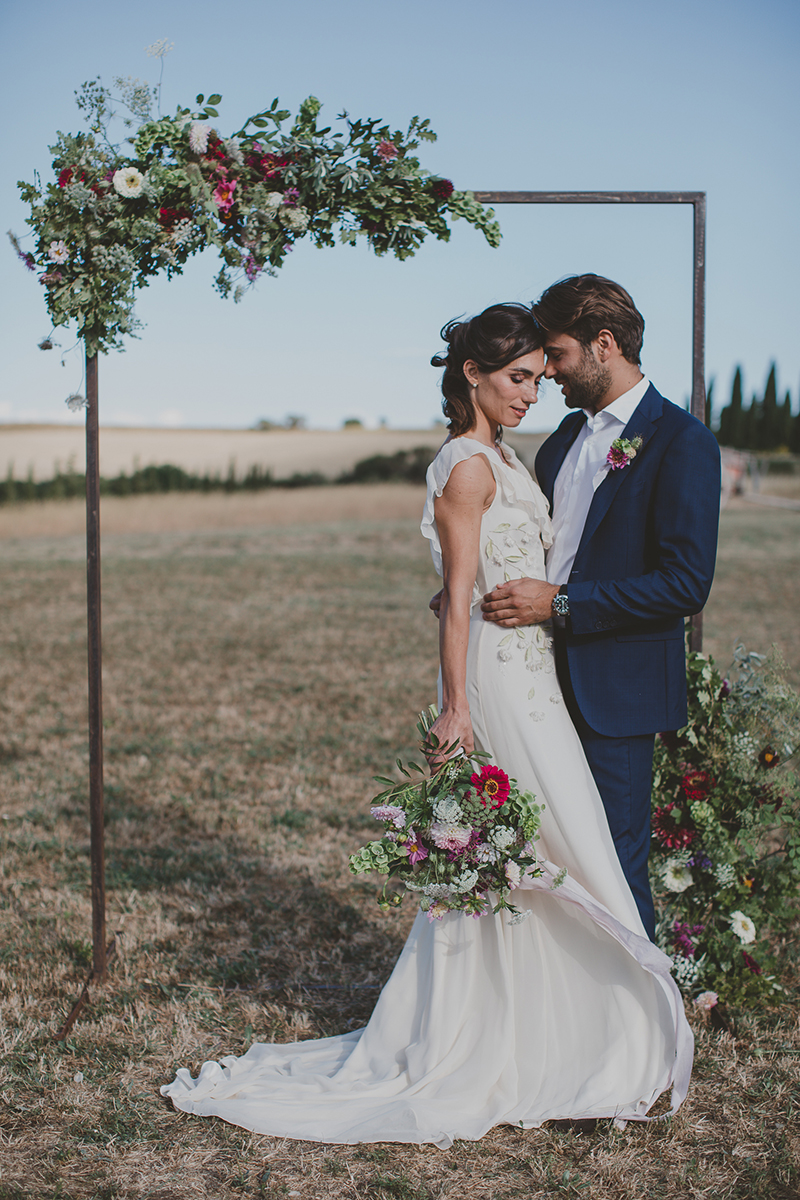 Getting married in Tuscany
For the most important day of your life, you need a touch of Tuscany! A land that, for its beauty, has made the whole world fall in love with itself and represented a favourite destination for couples who want to get married in Italy. It has done that for centuries, and continues to do so year after year.
Tuscany is a land of heterogeneous landscapes and because of this, it offers multiple possibilities for any type of wedding or event. If you want the sea to be the backdrop for your wedding, you will have a wide choice between the Versilia coast, the beautiful setting of the Argentario and the Etruscan Coast; if, on the other hand, you dream of a wedding immersed in the vineyards and valleys that stretch like a carpet, the Chianti and Val d'Orcia countryside will leave you enchanted with their bewitching light.
These settings are quilted with elegant villas, rustic farmhouses but also more intimate and less known places, which will offer breath-taking views and priceless emotions.
Destination wedding in Florence
And then there is Florence: an enchanting, romantic, fascinating city, which retains all the charm and flavour of the past and which never ceases to amaze. Known for its famous monuments and its breath-taking views, Florence harbours magical corners and glimpses, paved streets that instantly seem to lead you out of time and space. Walk along a small street lined with cypresses and a moment later you can find yourself in front of the Dome or other wonders of this incredible city.
Historic palaces, boutique hotels like small jewels, noble villas: whatever location you are dreaming of for your destination wedding, Florence will certainly not disappoint your expectations.
Are you planning your destination wedding in Florence or Tuscany and are still looking for your wedding planner?
Look no further, contact us and we will be happy to make your dreams come true!